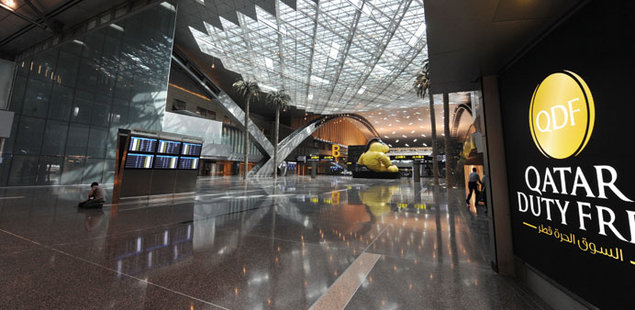 On 24th May 2014 Hamad International Airport opened its doors to the world. This, the opening of Qatar's newest airport, marked the end for Doha's old International Airport, ushered in a new era of air travel for the city of Doha, and gave Oxford Vaughan its first home in the State of Qatar.
Following 10 years of construction and a $15.5 billion investment, Hamad International Airport (HIA) is due to become one of the busiest and most advanced international hubs in global aviation. This vast facility will transform the air travel industry in Qatar, and give passengers travelling in and out of Doha some of the best and most luxurious airport facilities and amenities in the world.
The Middle East is quickly becoming the new hub of global aviation. In the first quarter of this year Dubai International Airport became the busiest airport in the world, with its 18 million passengers surpassing the 16 million passengers that travelled through London Heathrow.
HIA looks to build upon this new Middle Eastern domination of the air travel market, as it will eventually cover an area of 29 sq km (around a third of the size of Doha city itself), with the capacity for up to 50 million passengers each year.
This state of the art airport's modern and contemporary design includes a huge 600,000 square metre passenger terminal with chic arched columns, which allow plenty of natural light into the terminal. Large areas of the airport are adorned with stunning works of art, commissioned specifically for this ambitious development. Exhibitions by world-renowned artists such as Adel Adessemed and Damien Hirst, as well as award-winning local artists, are due to be installed over the next few years.
Once fully operational, the airport will boast up to 80 retail outlets, including a gallery of luxury boutiques and duty free stores; as well as up to 30 diverse restaurants, a VIP terminal inspired by Arabian sail boats and an aquatic themed mosque. HIA will also be home to two five-star hotels, each with 100 rooms and a health spa.
You can now find Oxford Vaughan sunglasses in Esquire, a unique and exclusive Gentlemen's boutique within Qatar Duty Free. Both Oxford Vaughan and Qatar Duty Free strive to give passengers travelling through HIA an unrivalled retail experience. The worlds best sunglasses in the worlds best airport.