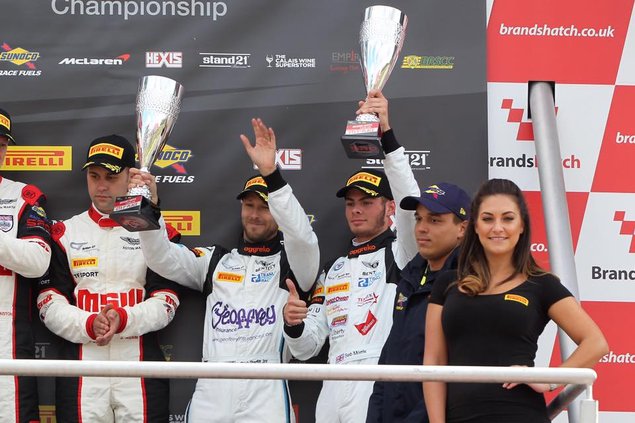 Oxford Vaughan Ambassador and British racing driver Seb Morris secured a richly deserved podium finish on his British GT Championship debut at Brands Hatch Grand Prix Circuit on Sunday, 17th April, during an incident-packed opening round of the 2016 season.
Alongside his Team Parker Racing team-mate Rick Parfitt Jnr, the duo made a sizeable impact from the outset, steering their No.31 Bentley Continental GT3 to a famous – and very dominant – pole position in qualifying before finishing the shortened contest in second position, having led the opening half of the race, to get the year off to a fantastic start.
"It would have been nice to win but I'm not disappointed to be honest", said 20-year-old Seb, "If someone had said before the season we'd have taken pole and had a podium on the first weekend, I would've taken that.
"I'm very impressed with the team, the guys at Parker have done a fantastic job, and the way they work with Bentley is so professional – the will to win is amazing. I'm really pleased to have my first podium in over a year, it's nice to go home with some silverware again!"
Rick Parfitt Jr took the opening stint of the scheduled two-hour race on Sunday afternoon and led away well from the rolling start. Gradually increasing his advantage over the first few laps, by lap 15 he was some 14 seconds to the good – but his lead was decimated 10 laps later when a 'full course yellow' cautionary period was put in place following a major collision at Pilgrim's Drop.
Due to significant barrier damage, the race remained under caution for a long time and was still under yellow flag conditions when the pit window opened. Parfitt Jnr pitted at the first opportunity to allow Seb to take over but they lost 30 seconds in the stop when an errant GT4 Class car blocked the Parker garage. Ultimately, Seb joined the race in fourth position.
Racing eventually got back underway with just under 45 minutes remaining on the clock and Seb instantly set about reeling in Fabio Babini's Lamborghini Huracan. In double-quick time, Seb caught and passed Babini for third and then set about closing down the five second deficit to Joe Osborne's BMW Z4.
With less than 25 minutes to run, Seb had eaten-up his rival's advantage and was in a position to challenge for second place. Frustratingly, though, the race was then red flagged following another incident and a result then declared from the end of lap 50.
Post-race, though, a penalty for the BMW elevated the No.31 Bentley into the runner-up spot. In addition to a podium on his GT debut, and also in Bentley's first race back in British GT, Seb posted the third fastest lap of 1m 25.271 seconds.
"It's frustrating what happened with the full course yellow, we reduced our pace as we should but that meant Rick lost his big lead – it's such a shame for him as he did a fantastic job to build such an advantage", reflected Seb, "Overall, though, we have to be pleased with what we did this weekend and we're feeling very confident now for the next round."
The second round of the British GT Championship will take place at Rockingham in Northamptonshire on Sunday, 1st May. Keep up to date with the latest updates from Seb as he competes in his debut season in the British GT Championship by following him on Twitter and Instagram.