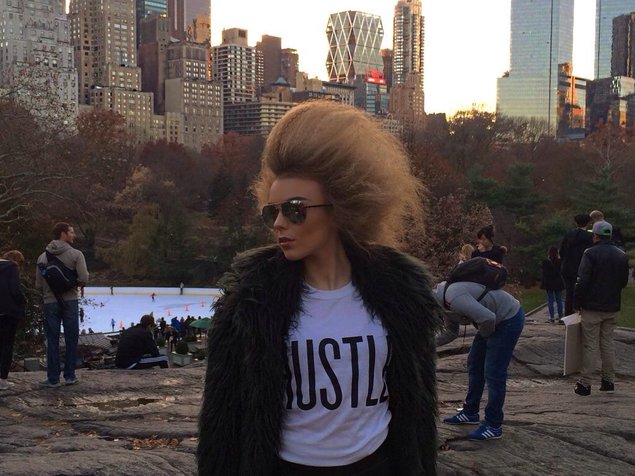 Tallia Storm, UK singer / songwriter, was spotted in New York this week wearing Oxford Vaughan SpeedBird Mach 2 sunglasses.
The Scottish teenager hit the headlines after a chance meeting with Sir Elton John's partner, David Furnish, whilst on holiday in 2012. After spotting David in a hotel restaurant, Tallia approached him and handed her demo CD over to him.
Sir Elton John listened, and called Tallia within 24 hours. Sir Elton loved her demo CD and, at just 13 years old, Tallia was invited to open his stadium concert in Scotland.
Following her impressive rise to prominence, Tallia has been interviewed and covered by press all around the world and has a host of A list fans including Eva Longoria and the legendary Nile Rodgers. The Huffington post described Tallia's sound as "raw and interesting...Nothing contrived, just a deep soulful signature reminiscent to that from the Motown era, belying her age."
This summer, Tallia signed a global record deal with Virgin Records at the iconic Capitol Tower in Hollywood. Despite this, Tallia still has her feet firmly on the ground, juggling her rising fame and music career with normal teenage life.
As well as her distinctive sound and amazing back-story, Tallia has become known for her trademark 'big hair' and fearless sense of style. Oxford Vaughan believe that their SpeedBird Mach 2 sunglasses suit Tallia's style perfectly, as the platinum plated lenses and 21k white gold plated frames come together to make a real statement piece.
Oxford Vaughan have always strived to merge technical excellence with high fashion, to create an eyewear collection beyond anything seen before. Wearing Oxford Vaughan, Tallia Storm proves that this is possible, and that Oxford Vaughan SpeedBird sunglasses look just as good on young fashion icons as they do on Eurofighter Typhoon fighter pilots.
Everyone at Oxford Vaughan has become a fan of Tallia's distinctive sound since listening to the uploads on her SoundCloud. You can listen for yourself, here.
To find out more about Tallia, take a look at her website, or follow her on Twitter, Instagram and Facebook.